What:
Best Day Ever
Where:
30 Rockefeller Center New York, NY
When:
Thursday, February 19th 6:30 PM through Friday February 20th
Why:
Because it's Conan O' Freaking Brian
As most of you know, Conan O'Brien, who has been the host of
Late Nite with Conan O'Brien
on NBC for the past 16 years, is heading out to LA to take over for Jay Leno on the
Tonight Show
. This means that
Late Nite with Conan O'Brien
will be no more. When I heard this, I attempted (to no avail) to win tickets to a taping. So when the last week of shows rolled around, I realized if I wanted to see a taping of it, this was my last chance. I waited in the stand-by line on Monday February 16th (which was President's Day and I was off work) but that was a bust.
So, on Thursday February 19th my friend Carmel and I decided to go for broke and camp out for tickets.
On my lunch break, I ran up to Rockefeller Center to see if anyone was in line yet.
To my surprise, nobody w
as there!
So, Carmel and I , happy and raring to go, planned on going to our department's beer pong tournament, then camp out. However, I was a little nervous that while we were throwing ping pong balls into cups of beer, other fans would be lining up for tickets, so instead, I ran up to Rockefeller Center after work to check out the line. There were 6 people in line, so I snagged my place and called Carmel to tell her I wasn't coming to beer pong and to come meet me when she was done.
It was cold.
Really cold.
But I met some great people right off the bat. We talked about Conan and joked around.
Around 9:30pm we ordered pizza to the curb.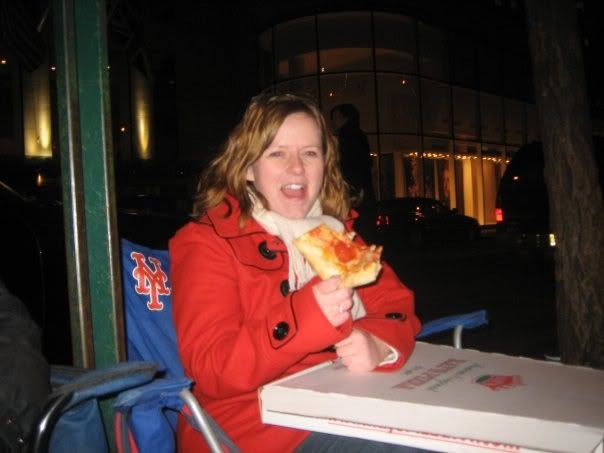 Around 10pm Carmel showed up. Not long after,
no
ne other th
an Conan himself walked out of Rockefeller Center and started towards 6th avenue!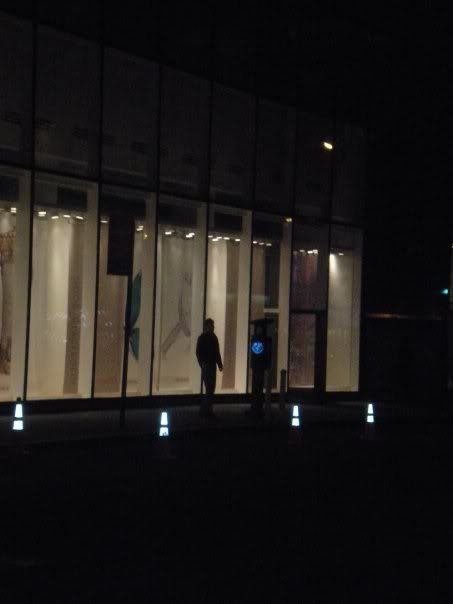 We screamed at him. Invited him to eat pizza with us. Someone yelled at him to do the string dance (which he did) and he started walking in the other direction. Carmel then ran after him and asked him to take pictures with us. He did!
It was pretty much amazing. When Conan put his arms around us, he purred in a very-Conan like way, which resulted in me laughing and the following picture. Also, see the grip he has on me? Rawr.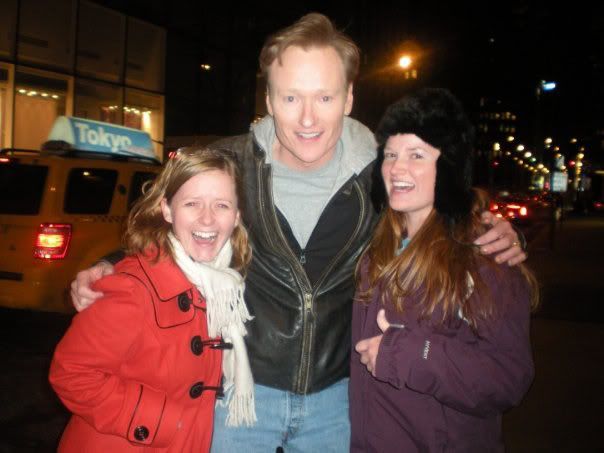 It was a long night but we entertained ourselves with
Scattegories
...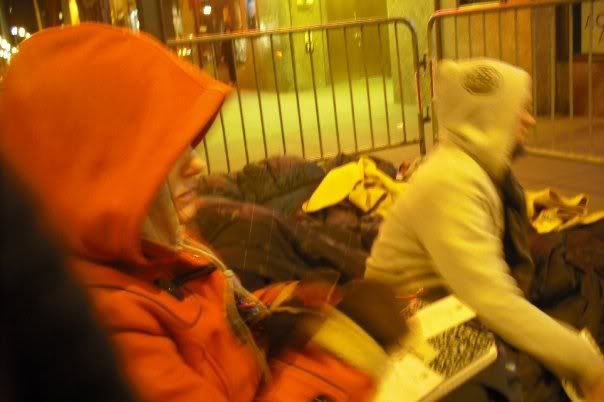 and by watching
Conan
by stealing someone's internet. Thank you, you kind fool around Rockefeller Center who doesn't password protect...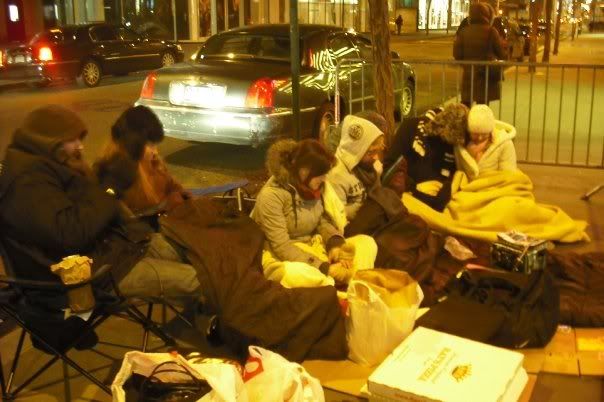 and by trying on helmets....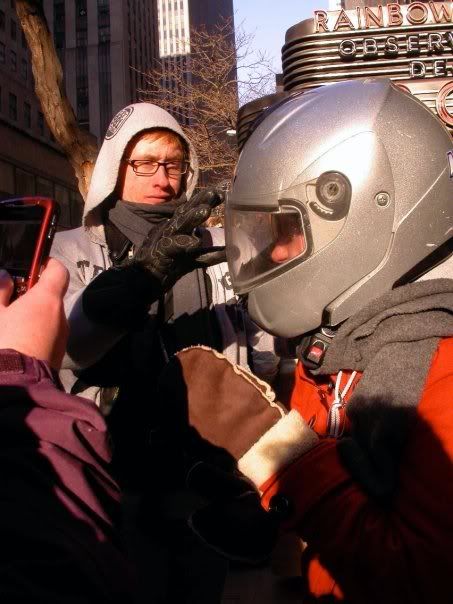 and by taking random pictures....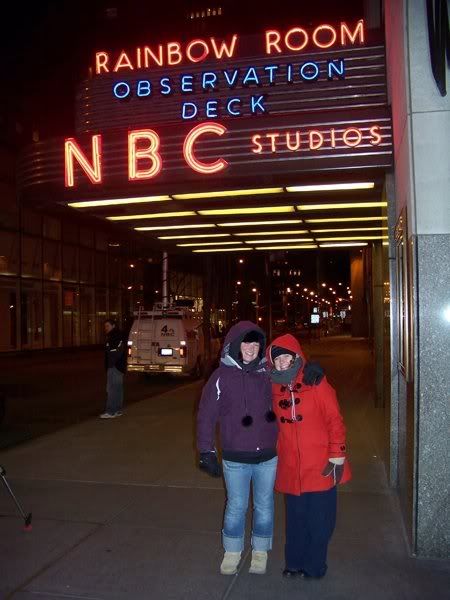 And by watching these natures scenes on the TV's in one of the window displays. They had bugs, birds, animals, and a drunk polar bear in a field of flowers?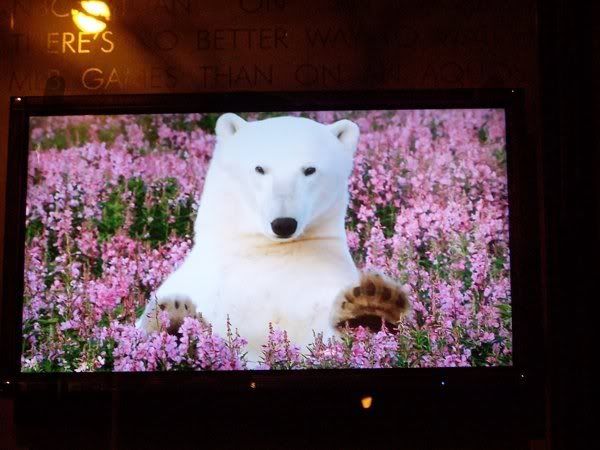 We were also joined by
not one,
but 2 local TV stations including this reporter from NBC 4 NY.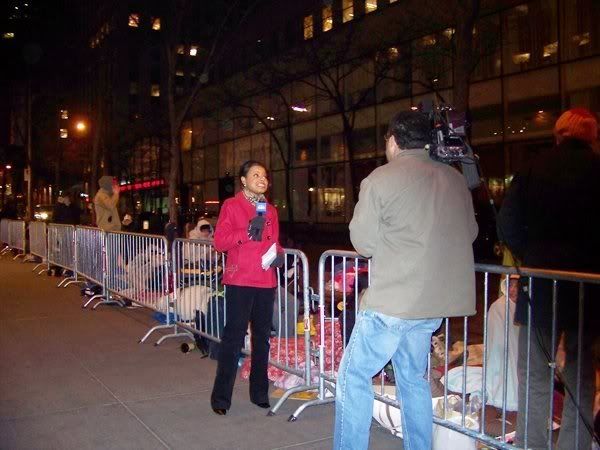 The other TV station was NY1, a local NYC news station.
Click to see me on the phone in my red/orange coat and Carmel being interviewed.
It was a long night, but we had fun.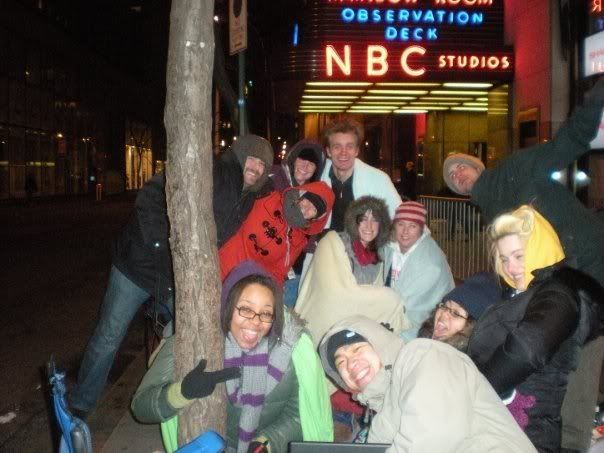 Finally, the sun was coming up!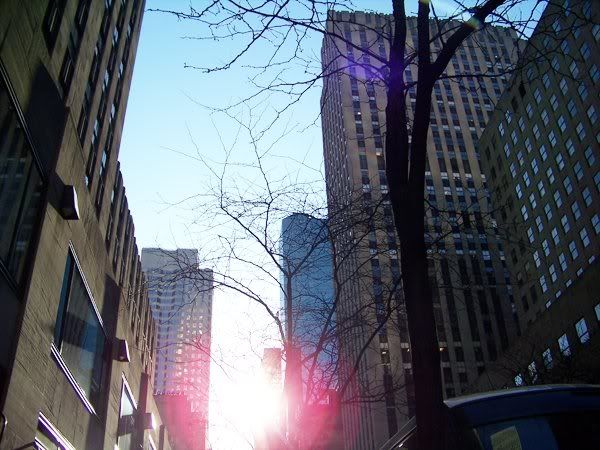 We received our numbers
(I was #8!)
at 9am and headed to work. I worked from 9am till 3pm and attempted to stay awake. Around 3pm I headed back to Rockefeller Center to get in line. Once there, I met up with another stand-by liner and we checked in. Because I was in the top 15, they gave me a
guaranteed ticket!
This pretty much never happens, but I called Carmel to tell her to get there ASAP and she received one as well.
Here are our bracelets.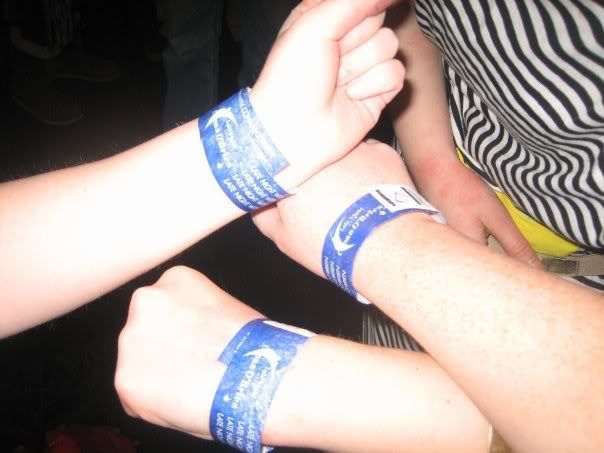 We had about a half hour before we had to get in line to go into the studio, so we made some I Heart Conan shirts.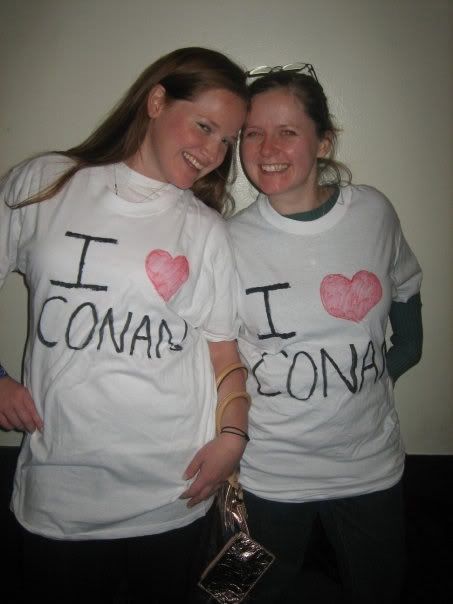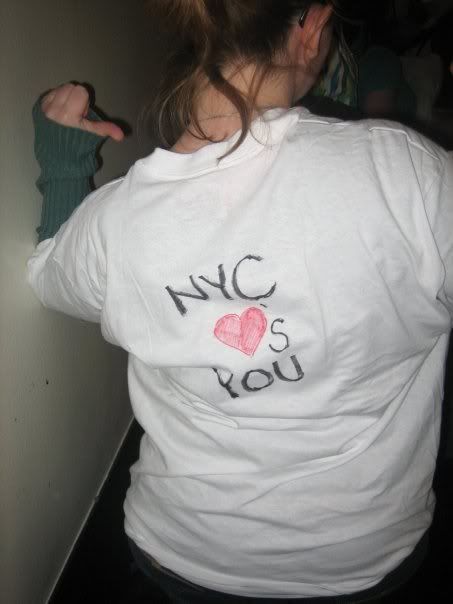 And Carmel was interviewed, again.
We walked into the studio and grabbed
second to the front row seats!
It was amazing!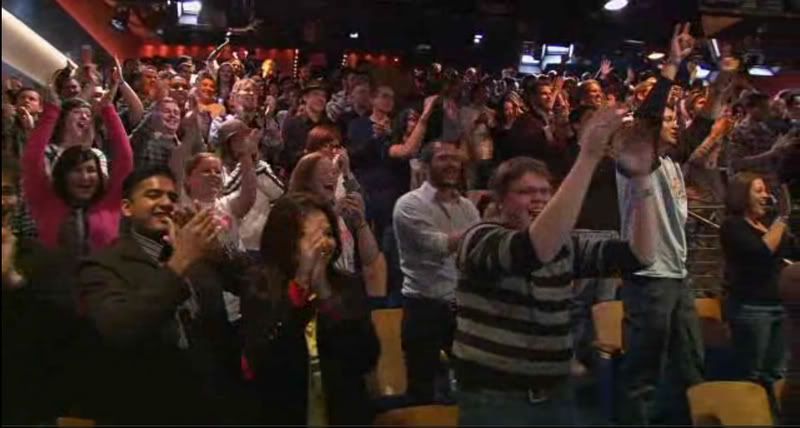 We kept looking to see if our stand-by friends were in and
THEY WERE! YAY.
There was a warm-up guy who come out before the taping and everyone was pumped. You could feel the excitement in the air. Then, Max Weinberg and the Max Weinberg 7 came out and started playing. We were dancing in our seats and being dorks.
I swear, you'd think we were all on Oprah's Favorite Things show by how everyone was acting.
Conan came out and did his monologue and showed a video of John Mayer. Then, Will Ferrell came out in his George W. Bush get-up which quickly devolved into
Will Ferrell ripping off his business suit revealing his tiny leprechaun outfit.
He then proceeded to rub up against Conan. This, of course, made us explode.
After Conan's monolouge, there was a commercial break and he walked to his desk. I stood up and pointed to my
I Heart Conan T-shirt.
He started pointing to himself and making a heart on this chest with his hands a la Dr. Evil from Austen Powers.
Then! THEN, HE BLEW ME A KISS!!!
Conan O'Brien blew me a kiss!!
I reached out to catch it and this guy in front of me stole it! Conan looked at him and shook his finger. It was hilarious.
One thing to note is that when they were showing the old clips, Conan just stood there. He watched some of them and laughed, but I found him so intriguing because he was mouthing the words to some of the bits. He looked happy and emotional.
Andy Richtor was there and it was nice to see them together. While the White Stripes played Conan sat on the steps looking very reflective. It was emotional all around.
Another interesting thing is that the studio is much smaller than it looks on TV. Conan took apart the stage again and handed out some pieces of the stage. I didn't get a piece, but that's OK (that's what she said). Also, there were a bunch of people lined up in front.
Conan ended the show with a farewell to the staff and other various people. He mentioned David Letterman and Jay Leno. I
teared up when he mentioned New Yorkers and how nice they've been to him.
He ended it on a great note, mentioning that he wasn't going to change his style just because he was going to be on at an earlier time.
After the show, all the stand-by people took a picture.
And some of us, even though we were all going on no sleep, went to get some drinks.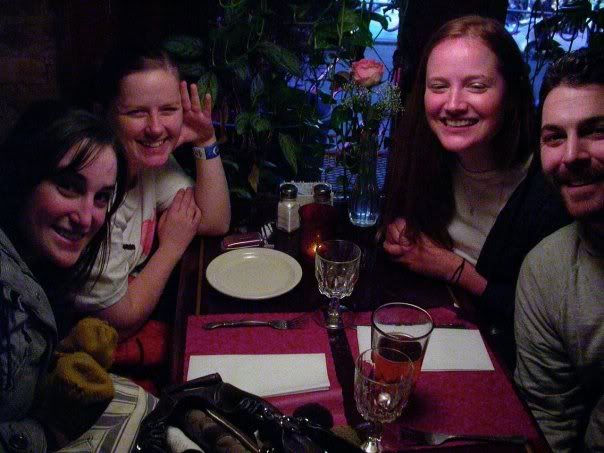 All in all, it was an amazing experience.
I'd do it again in a heartbeat.
I'm so glad I was able to do this. I made some new friends and had a blast. I will never forget this and I'm glad I could share it with my friend Carmel!