This week I shall call Cinema Week because I will be going 3 times! Yikes! I am seeing
Fanboys
tonight and
Confessions of a Shopaholic
tomorrow night. On Tuesday I went with my friend to the IFC theater in the village and saw all of the Oscar nominated animated shorts. It was pretty cool cause I've never done that before and they were all really great. I have a hard time deciding which one I think should win. They also showed some other top contenders and past winners, but here are the nominees for this year:
Lavatory Lovestory Russia

The simple animation of this short which is done in mostly black and white, tells the story of a lonely lavatory attendant who dreams of romance. This one was very cute.
Oktapodi France

This short is animated in a vivid, Pixar style. The 3-D animation brings two octopuses to life. When one is purchased by a chef, the other leaps out of the tank to save her from the clutches of the skilled cook. Oktapodi was cute, but was over a little fast for my liking.
Le Maison en Petits Cubes Japan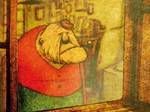 I think this one was my favorite. The animation was done in a delicate hand drawn style which suited the poignancy of the story. Le Maison en Petits Cubes tells the story of an old man flashing back on his life after his village is flooded.
This Way Up UK

The Tim Burton dark style in this short complimented the story of two mortuary employees who go to great lengths to transport a body after their hearse is destroyed. It is visually playful and engaging and I loved the storyline.
Presto United States

This animated short has been seen by a larger audience already because, I believe, it preceded Wall-E. While more slapstick than the others, Presto, about a rabbit that turns the tables on his magician, was still endearing and full of heart and had my laughing a lot.
Because I have been going so often, I have been eating popcorn for dinner a lot, which is a bad thing, but also not.